SavOx
This chest-worn protective escape device provides oxygen on demand wherever toxic gases, particles or oxygen deficiency can be imminently present. Ready-to-use, it's small in size and low in weight, making it easy to don, use and carry. Features a double heat-exchanger system to reduce inhalation air temperature to a comfortable level. The TR device allows quick and economic training of donning and use by simulating the weight and properties of real units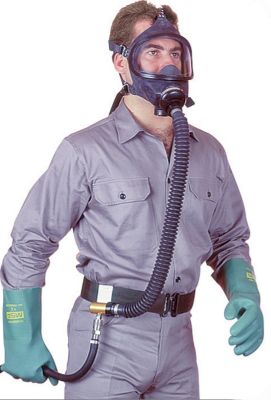 Constant Flow Airline Respirator
This Type C, supplied-air respirator supplies a continuous flow of air to the face piece from an external source. The complete assembly is available with the Advantage® 4000 (either an Ultravue® or Ultra Elite® full face piece, Comfo® half-mask face piece or Comfo welder's) face piece, plus breathing tube, web support belt and air flow control valve. Use only in non-IDLH environments.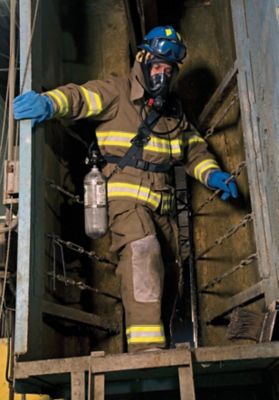 PremAire® Cadet Supplied Air Respirator
Get air on demand with this high-performance, Type C, supplied-air respirator. Mask-mounted regulator responds quickly to changing breathing requirements. Maintains a slight positive pressure to prevent contaminants from invading the face piece. Ideal for chemical and petrochemical processing, municipal utilities, and asbestos and lead paint abatement, as well as non-IDLH environments such as pharmaceutical applications and hazardous materials clean up. Available as a basic supplied air device or as a combination air-line/air-purifying respirator.