Versatile Engineered Systems for Your Industrial Fall Protection Needs
MSA Latchways Industrial Solutions
Stay Safe at Height
MSA's Latchways fall protection solutions provide unparalleled protection on a wide range of buildings and structures, including industrial units, manufacturing plants, warehouses, loading bays, and office complexed. Choose from permanent installations such as horizontal, vertical, overhead, or ladder systems, to the flexible VersiRail for occasional need.
Horizontal Systems
Day-to-day maintenance, cleaning, access, and regular inspection deserve industry leading fall protection. MSA's Latchways Horizontal Systems offer a total solution for safety at height industrial applications.
Up to 5 simultaneous users
Fix to virtually all types of structures and roofing systems, including vertical sections, and designed to follow the contours, bends, and inclines of your building.
No need to detach and re-attach with the continuous movement capabilities of MSA's Latchways unique Transfastener
Constant Force technology or energy absorbers provide fall arrest protection
Overhead Systems
Maximum accessibility & hands-free mobility to safely go about your duties.

MSA Latchways overhead engineered lifeline systems combine unique knowledge of fall arrest load control with innovative constant force technology for a flexible, strong, durable, and easy-to-install solution. Ideal for: warehouses, loading bays, and general industrial environments.
Change direction with ease
Innovative Constant Force technology controls the load on the system in the event of a fall.
Reduce the number of costly 'T' bars and anchoring points with Constant Force technology's ability to span 60m
System tested to BS EN 795; certified by SATRA and conforms to BS EN 362:1992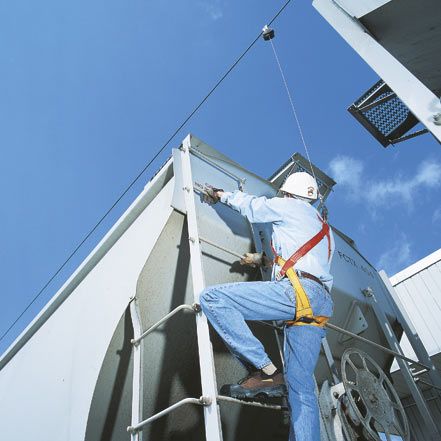 Ladder Systems
Hands-free, personal safety for fixed industrial ladder applications, including chimneys, towers, cranes, and silos. MSA Latchways ladder systems are unobtrusive and lightweight, and stand up in snow, ice, or other adverse weather conditions.

Falling down a ladder is not the same as falling backwards off of a ladder. While traditional hoop systems may prevent a worker from falling backwards off of a ladder, the hoops themselves present a significant threat should a worker fall down a ladder. A worker attached to a MSA Latchways ladder system is far less likely to be injured during the fall arrest process compared to a fall from a traditional hoop system.
VersiRail Guardrail System
Safety at height shouldn't be an eyesore for your building. Restrict access to fall hazards with a sleek and guardrail system that fully integrates into your building's design.
Available in 4 styles (straight, curved, inclined, and folding)
Easy to install and transport due to aluminum construction and EZ-FIX components
Configurable to provide guarded walkways, roof edge guards, corner units, and end sections
Independently tested design and installation (Conforms with BS EN 13374:2013, BS EN 14122-3:2001:A1:2012, OSHA 1926.502 & 1910.23, AS 1657:2013 as applicable)
Applicable for use on flat roofs up to a maximum pitch of 4°.
Installation Note: Installation of engineered systems should only be carried out by an MSA Latchways trained and registered installer company. Contact us to find a certified installer near you.

Testing/Maintenance Note: System testing must be conducted annually by suitably qualified installers to ensure that system certification is maintained. Key system checks can include deployment of shock absorbers, swage tests, and torque checks, and others. Contact us to find a certified installer conduct system testing on your engineered system.