Featured
V-TEC™ Self-Retracting Lifeline
With premium  stainless steel components and innovative engineering, the V-TEC Self Retracting Lifeline incorporates a precision-made spring radial energy absorber that requires zero calibration or adjustment.  The retraction dampening feature controls cable retraction speeds preventing pre-mature and accidental load indicator deployment.
Latchways Sealed Self-Retracting Lanyards
The Latchways Sealed Self-Retracting Lifeline range offers a dependable means of fall protection and has been specifically designed for use in harsh environments such as oil rigs, wind turbines and other offshore applications.
Discontinued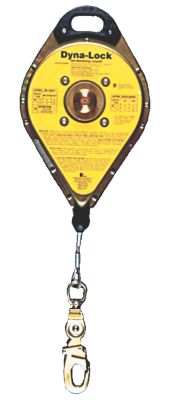 Dyna-Lock® Self-Retracting Lanyard
The MSA Dyna-Lock® Self-Retracting Lanyards (SRL) are fast-acting fall arresters that limit free-fall distance, deceleration distance and fall arrest forces while allowing user freedom of movement. The Dyna-Lock SRL is ideal for climbing applications where vertical mobility is needed.