Observer-i Ultrasonic Gas Leak Detector
Instantly detect pressurized gas leaks with this high-precision,  omni-direction acoustic detector utilizing Gassonic ultrasonic technology. Works even when traditional methods of gas detection are unsuitable or dependent on ventilation. Features Artificial Neural  Network (ANN) technology that distinguishes between real gas leaks and false  alarm sources without requiring any in-field training. The Observer-i UGLD provides an industry-leading detection range (up to 28 m) reducing the  number of detectors required. Ideal for use in complex, outdoor pipeline systems.
Featured
SUPREMATouch Controller
The SUPREMATouch has been enhanced with several new features which makes it outstanding in its class. Added to the popular large colour touchscreen display, a new title-based menu structure has been added to optimize intuitive operation. The SUPREMATouch can be used with a wide range of detectors for combustible gas, toxic gas and oxygen. Output options include relays and 4-20mA outputs. Remote racks can be connected (satellite structure), which expands control systems and reduces cabling costs. Interfacing to external systems is provided by using Modbus or Profibus. The SUPREMATouch has been certified according to ATEX and is suitable for virtually any safety related application including redundant systems with up to a Safety Integrity Level (SIL) 3 rating (EN 61508). The intuitive SUPREMA Manager Software is intended for configuration, parameterization and calibration of the SUPREMATouch Fire and Gas Controller. It offers the option to create detailed and clearly laid out reports to support documentation and supports all the new features of the SUPREMATouch. Note: This is a custom product. Please consult your local MSA distributor or contact MSA Customer Service for configuration details.  
Featured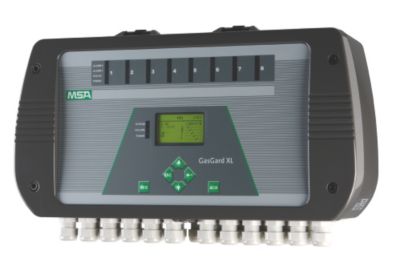 GasGard® XL Controller
Monitor up to eight remote gas sensors with the highly accurate wall-mounted GasGard XL Controller. The sensor's large, multi-language LCD display provides real-time readings, offers full-system diagnosis and shows intuitive icons. Housed in durable, fire-retardant ABS plastic, the controller is suitable for a variety of chemical, industrial and waste water environments. The sensor also features a buzzer that sounds up to 85 db.