Featured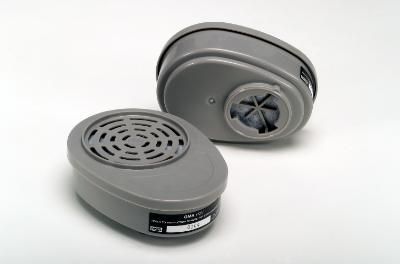 Advantage® Chemical and Combination Cartridges
Crafted for easy installation and strong protection, Advantage Respirator Cartridges use a bayonet-style design for easy mounting. With low-lug height and lead-in connectors, the cartridges lock into place with only a single twist.
Featured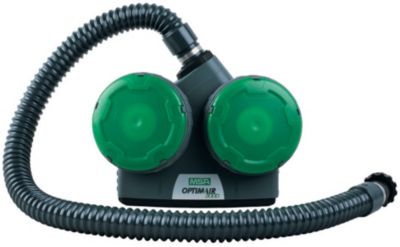 OptimAir® 3000 PAPR
With three possible configurations, the OptimAir 3000 offers versatility, ergonomic design and state-of-the-art features. The unit features a microprocessor-controlled, variable-speed motor to ensure the user gets an optimal amount of air. The respirator features one-button operation and weighs less than 1.5 kg for convenience and freedom of movement. When used with a hood, the unit's alarm is sent through the hose and can be heard in loud environments, while the five-level battery indication signals how much life the battery has left. Automatic calibration, long-life battery and shower-proof design makes the unit convenient and practical.
Featured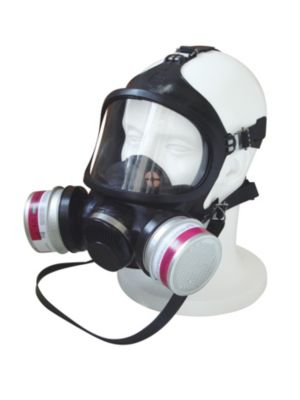 Ultra-Twin® Full-Facepiece Respirator
Crafted to provide a secure fit and strong protection, Ultra-Twin Full-Facepiece Respirators offer several options that make it a clear choice for defense against toxic chemicals. The unit features an inturned lip for a comfortable seal against the face, a large chin cup for easy positioning, and 5 suspension headstraps with roller buckles that hold the facepiece in place while minimizing hair entanglement. The wide lens is scratch resistant, while a speaking diaphragm provides clear short-range communications. The unit also features a nosecup that helps eliminate lens fogging.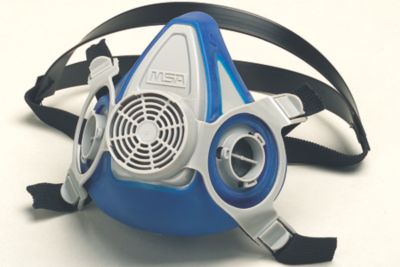 Advantage® 200 LS Half-Mask Respirator
The Advantage 200 LS is a comfortable, efficient and economic half mask. It is ideal for applications where workers are exposed to various hazards from job to job, such as high concentrations of fumes, mists and gases. With its patented MultiFlex system the Advantage 200 LS offers maximum protection and high wearing comfort. The soft, pliable combination of rubber and plastic provides a customised and pressure-free fit, instantly conforming to the wearer's unique facial characteristics. The Advantage 200 LS comes in three sizes and has a complete and exclusive filter programme to protect against harmful particles and/or gases.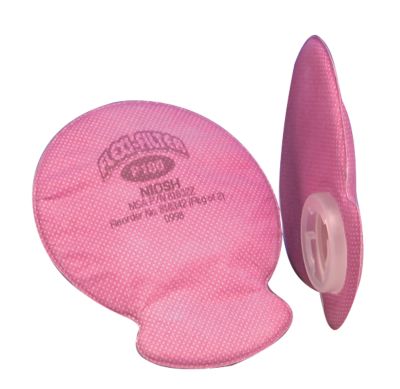 Advantage® Flexi-Filters®
Lightweight, low-profile Flexi-Filter Pads make it easy for wearers to work for hours without fatigue or overheating. The swept-back design increases user field of vision, while low-breathing resistance ensures hours of comfort. Convenient finger tabs ensure easy installation and removal.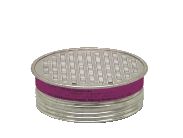 Comfo® Chemical and Combination Cartridges
Crafted to provide a high level of protection, our easy-to-install Comfo Respirator Cartridges guard against a wide variety of contaminants. Our filter cartridges protect against dusts, particles, and mists, while our chemical cartridges protect against gases and vapors. Combination cartridges deliver protection from both particulate and gaseous contaminants. The cartridges thread directly to the receptacles on Comfo and other twin-cartridges respirators.
Comfo® II Half-Mask Respirator
The precision-crafted Comfo II Respirator is highly durable, providing protection against a wide variety of particles and gases through chemical cartridges or combined with P3 (Chemical + particle filter). The comfortable unit's face mask comes in natural rubber or silicone.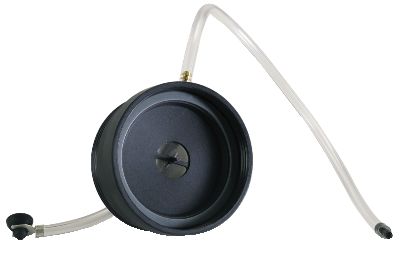 Fit Test Adapters
MSA offers a variety of fit testing adapters including: * APR Adapter: designed for use in non-IDLH environments and is NIOSH-approved. * Advantage® Fit Test Adapter: allows quantitative fit tests to be performed on bayonet cartridge style respirators (i.e., Advantage 200LS Half Mask and Advantage 3200 Full Facepiece Respirator). * QuikChek® Fit-Test Adapter: use with MSA respirators equipped with demand-style Ultravue® full facepieces or Comfo® Classic, Comfo Elite®, and Ultra-Twin® facepieces. * QuikChek® II Fit-Test Adapter: allows quantitative fit testing of any Comfo® II, Comfo Classic®, Comfo Elite®, Duo-Twin® or Ultra-Twin® respirator. * QuikChek® III Fit-Test Adapter: designed for Ultra Elite® full facepieces and attaches to the BMR adapter assembly. The MMR PD Ultra Elite® facepiece requires the QuickChek® IV, which comes with one P100 cartridge. * QuikCheck® IV Fit-Test Adapter: designed for Ultra Elite® and Ultravue® full facepieces with quarter-turn quick disconnect. Includes one P100 cartridge.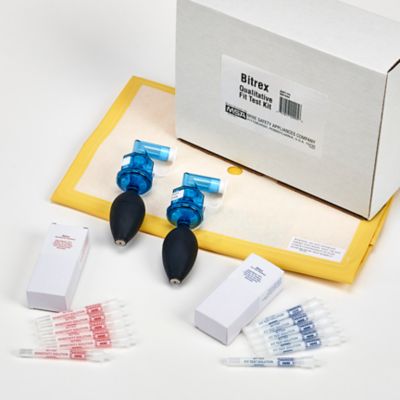 Fit Test Kits
MSA offers a variety of qualitative fit test kits to help users ensure a proper facepiece fit. The Occupational Safety and Health Administration (OSHA) requires proper fit for workers who use respirators. Products include: * Bitrex Qualitative Fit Test Kit * Saccharin Qualitative Fit Test Kit * Banana Oil Qualitative Fit Test Kit